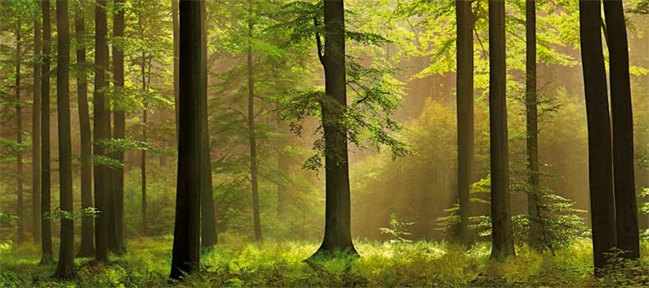 Globally, deforestation is occurring at the rate of 7.3 million hectares annually. This equates with almost the entire land mass of Scotland. Trees are the greatest natural source of oxygen and forest depletion is largely responsible for soaring rates of respiratory health conditions such as asthma, tuberculosis and bronchitis. Lung cancer was almost exclusively a smokers' disease. Today, a third of all persons diagnosed with lung cancer have ever smoked in their lives.
According to the Forestry Commission 13,500 hectares of forest cover were lost between 1990 and 2010.Bringing total UK forestation to below 12% of British land. We would reverse this trend and target an increase of forestation by just over 3% to 15% nationally within five years. From the outset we would carry out a definitive government audit to identify and quantify the true extent of deforestation in our country. Leading to a national planning prohibition immediately stopping deforestation and the mass falling of trees in all forms. In China, their structured reforestation programme has yielded a forest cover increase from 12 to 16%.Remarkably,31% of Germany is forested so the UK still has a relatively long way to go.
Woodland heritage is just as important as buildings and monuments. Reforestation will not only make our scenery and landscape more breathtaking but will improve our air quality by absorbing more of the nitrogen dioxide emanating from our ever increasing levels of traffic pollution. Furthermore, reforestation will reinvigorate much of the natural habitat of our British wildlife and bird population.
HOW WOULD WE REFOREST BRITAIN ?
A) We would extend the Woodland Grant Scheme so that those intending to plant woods receive monies in advance rather than the current system of staged payments. Ninety per cent of broadleaved forests in the UK are privately owned.
B) Where there is conversion of land use to woodland, for any other use except residential, there will be 100% funding for the cost of all trees, planting and exemplified labour expenditure.
C) Make the planting of trees a tax deductible expense both on a personal and business context.
Our reforestation strategy will be directed towards providing specifically more broadleaved trees rather than conifers. Which will result in calcium richer, less acidic soil causing more prolific carbon sink. It is estimated that globally forests remove 3 billion tons of anthropogenic carbon every year.