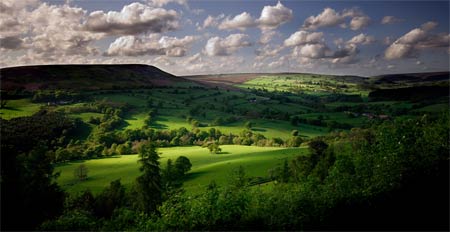 UKIP have underlined their position as the only main British political party which will categorically protect our green belt and green spaces. In England alone, fourteen green belts cover 13% of the total land, providing a breath of fresh air for 45 million people. The green belt is effectively the lungs of Great Britain, without which the 88% of our population living in the urban areas would have their air quality severely compromised. Yet the government have not conducted a single enquiry into the impact our receding green belt will have on our respiratory health.
There is an unequivocal link between housing demand and the open door immigration policy of successive governments. Nick Boles, the current planning minister has conceded that "43% of the new households which want a home are accounted for by immigration". Without question the uncontrolled mass immigration which has resulted in up to four million additional people arriving on these shores in the past decade has escalated the quest to encroach on our countryside. The Campaign to Protect Rural England thought that government proposals were a signal to "let rip" on the countryside. And it emerged this week that six thousand new homes are planned for the countryside each month. More than 700,000 homes have been proposed by councils on the countryside. Once it's gone, it's gone forever. Great Britain will never be the same again.
Nevertheless, there is not a shred of evidence that even at current and projected levels of demand we need to build on the countryside. Building on prime Greenfield may suit developers in their quest to generate substantial profits from luxury developments but where is the evidence that it will lead to more affordable housing? The caveat is that we control levels of immigration now. We just simply do not have the space or the public services infrastructure. So much so that many of our urban centres are now dangerously overcrowded leading to an epidemic increase in communicable diseases.
It is liberally estimated that we need to build 300,000 new homes annually to respond to current demand. The private sector built 293,000 homes in 1935 and 279,000 in 1936 at a time when the population was much smaller. Today our construction industry has profoundly more elasticity to expand capacity to meet this target. So we start building homes at record levels. We breach the green belt. We start with the shrub lands. Where do we draw the line? Who makes the assessment as to what is to be kept green and what is to be concreted?
Expanding population and industry will mean greater pollution. Ironically, the UK faces fines of £300m a year and embarrassing legal proceedings due to the failure to reduce excessive levels of nitrogen dioxide from traffic pollution. Studies have shown that in one urban space, tree cover removed 48 pounds of particulates, 9 pounds of nitrogen dioxide, 6 pounds of sulphur dioxide, and 0.5 pounds of carbon monoxide and 100 pounds of carbon-daily. It has also been noted that one sugar maple along a roadway removes 60mg cadmium, 140mg chromium, 820mg nickel and 5,200mg lead from the environment in one growing season. The countryside therefore is not only a visual spectacle but a public health resource. So the same LibLabCon establishment which wants to burden consumers with green taxes and fuel poverty, wind turbines and environmental tick box exercises has no issue with the concreting of our countryside.
Our membership of the European Union precludes us from controlling the inflow of people into the UK. Consequently, we have never been able to accurately plan our housing needs as we have never been able to predict the extent of immigration into the UK. That is why the LibLabCon philosophy of chasing endlessly changing house building targets is fundamentally flawed. And no government has succeeded in either defining or matching supply. And the truth is they never will until we take control of our borders. Moreover, the right to buy project of Margaret Thatcher remarkably extended home ownership but simultaneously pulled substantial housing stock out of the social housing sector.
Branding UKIP as anti-immigration is as illogical as blaming a hotelier for not having more rooms to rent. We are not denying the merits of immigration; we are simply saying we do not currently have the housing capacity to accommodate. The simple fact is that whilst we remain in the EU we cannot control our borders, and therefore the level of immigration into our country. If we cannot predict the level of immigration we cannot predict the level of housing demand.
If we follow the political establishment logic of building our way out of the housing crisis we will eventually be building into the Atlantic Ocean and the British skies! We must think outside of the LibLabCon box. More affordable housing can mean more brownfield development, and the conversion of disused office and industrial to residential. There is no need to concede an inch of our countryside to development.